When you embark on a journey with us, you'll be gaining a long-term, strategic partner — an expert who will help you meet your company's goals and increase your financial bottom line.
At PROMAN Staffing, we enjoy an extremely low 3% turnover within our branch teams and core staff. When you consider that the rest of the staffing industry is averaging a 40% turnover, it's easy to see the effectiveness of PROMAN's approach when it comes to employee and customer satisfaction.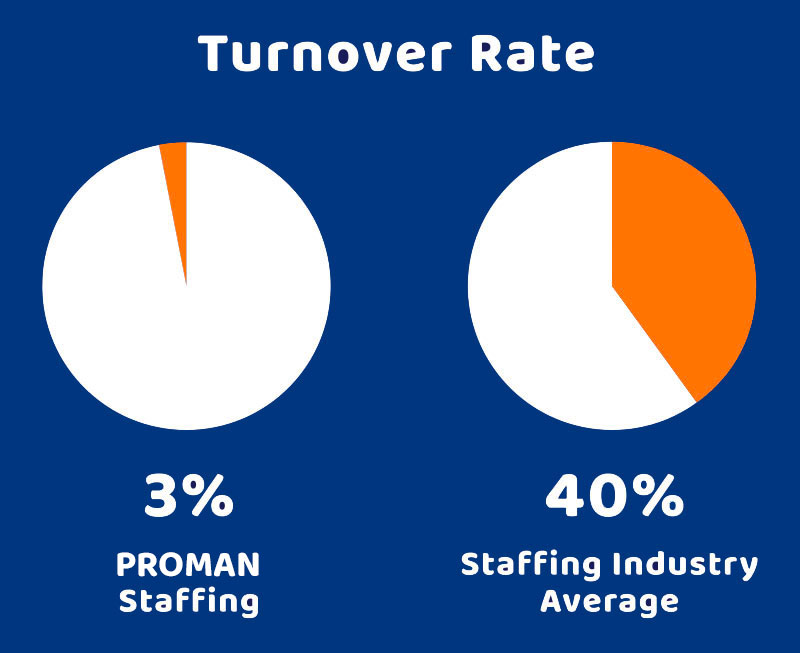 Leading the way in workforce solutions.
At PROMAN, we have a proven track record of meeting and exceeding client expectations. Our commitment to providing exceptional talent is simply unmatched. As a leader, we have a wealth of industry experience and know what it takes to understand our clients, their operations and staffing goals. It's all about building and fostering relationships, so when a need arises, we're ready and able to help.
What customers are saying.
We felt good about the level of professionalism and competence of the PROMAN team. That's the primary reason for choosing them over others we interviewed. I can't imagine having worked with anyone else.
We are giving all of our forklift orders to PROMAN. They consistently give us better drivers and that's exactly what we need.
PROMAN has handled all of our temporary staffing needs for more than a year. We appreciate the teamwork and business partnership we share.
PROMAN has been our staffing partner since 2019. For temporary labor resources, Barnes & Noble Monroe Distribution, endorses and recommends PROMAN Staffing as a "vendor of choice".